Dental Braces for Ontario Teens
Considering braces to correct your teen's dental issues? At Village Orthodontics we can help your teen navigate the treatment process and achieve a straighter smile.
Straightening Teen Smiles With Orthodontic Braces
At Village Orthodontics, once your teen has all of their permanent teeth, at around 11-13 years of age, we can work on the finer details of correcting tooth alignment, crowding or bite-related issues. 
This phase is often dedicated to continuing the work we began with palatal expansion and earlier orthodontic treatments. With all of the teeth now present we can work to bring each tooth to its optimal location, and check that the teeth sit properly in relation to each other, lips, tongue and cheeks. 
Teen braces treatment can take anywhere from 9 months to 5 years to complete, but the average time is between 1 and 2 years. Thanks to advances in technology, braces available today are lower profile in appearance than ever before. 
Braces For Teens In Low Profile Styles
Braces are an effective, time-tested way to treat a wide range of misalignment or crowding issues. Village Orthodontics has 7 locations across Ontario offering a variety of low-profile braces options to help teen patients achieve straighter, healthier smiles.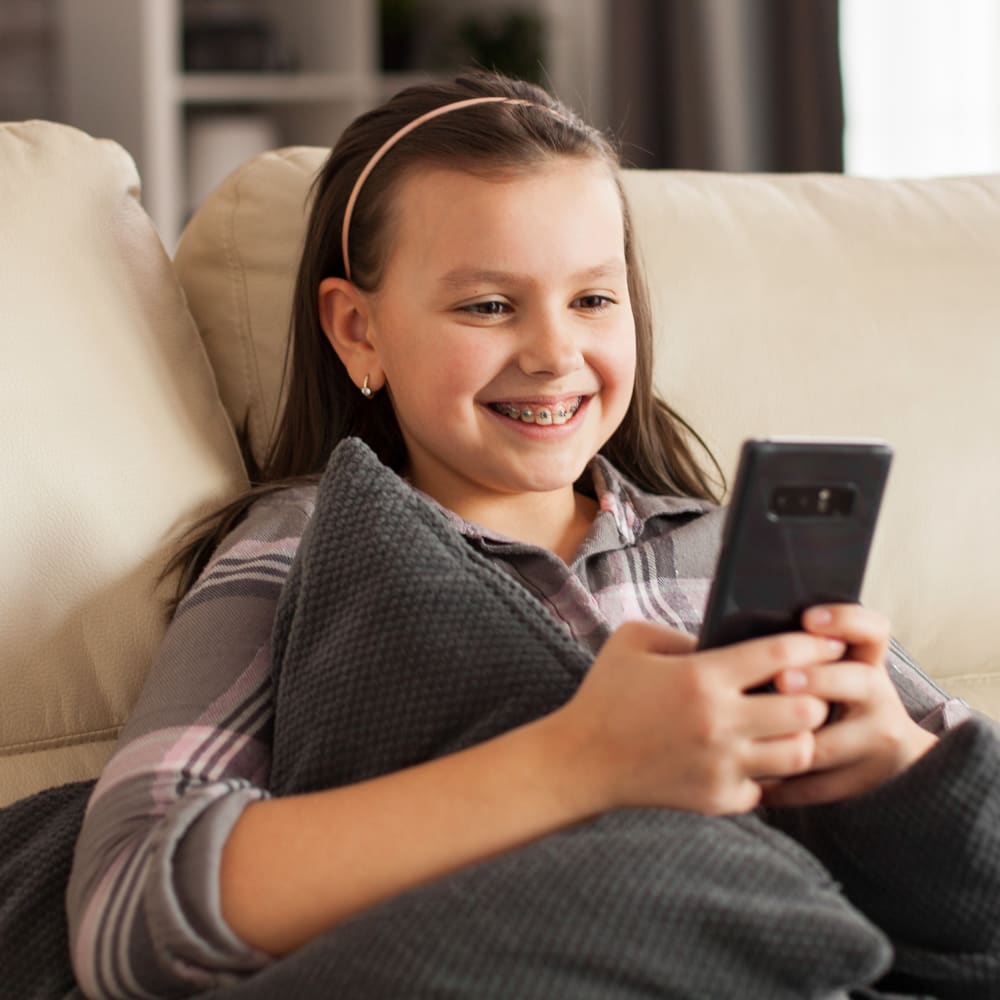 How Dental Braces for Teenagers Work 
Braces may be used as Phase 2 orthodontic treatment if your teen had palatal expansion earlier, or at the start of their treatment process.
Different types of braces are available for teenages with bite, crowding or alignment issues. When braces are used, a bracket is generally attached to each tooth then it's connected to a wire that crosses a row of teeth.
If required, elastic bands can be attached to brackets between the upper and lower teeth to correct specific issues. The wires, brackets and elastics work together to gradually move your teen's teeth and bite to their corrected positions.
Treatment times will vary based on your teen's specific needs but most teens have braces for about 2 years. During treatment, they visit us about every 6 to 8 weeks for adjustments and so that we can monitor their treatment progress.
Visit a Village Orthodontics Near You
Whether you're considering treatment for yourself or your child, we have an orthodontist waiting for you at one of our seven locations across Ontario.
Back to top