Orthodontist in Niagara Falls
Village Orthodontics near the '5 Corners' at Thorold Stone Rd. and Portage Rd. in Niagara Falls offers orthodontic care for children, teens, and adults. 
What We Offer
Traditional Braces
Clear Aligners
Sleep Apnea
TMD Treatment
Personalized Treatment
Scheduling Flexibility
Payment Options
FAQs
Emergency Services

If you are calling with a potential orthodontic emergency, as a general rule, most concerns can be answered under Emergency Services. If immediate assistance is required, please call our emergency number at (905) 371-8884

Appointment Bookings & Notifications

To Book an Appointment
If you'd like to book an appointment at our office, please call us during our regular business hours.

To Cancel or Reschedule
If for any reason you need to cancel or reschedule an appointment, please notify us as soon as possible. This will allow us to schedule another patient in the appointment slot.

Appointment Reminders
To help our patients keep track of their appointment bookings and schedule their time accordingly, we provide automated text, phone or email appointment reminders. If you receive a reminder and find that you need to cancel or reschedule an appointment, please contact us as soon as possible to let us know. 
 

Payment Options + Payment Plans

At Village Orthodontics we strive to make orthodontic treatment more accessible and affordable for people from all walks of life. We will work with you to create a customized payment plan to fit within your budget.

Our location is happy to accept payment by cash, debit and/or most major credit cards.
Address 
3950 Portage Rd, Niagara Falls, ON L2J 2K9 CA
Phone & Fax
Phone: (289) 271-0186
Fax: (905) 371-8884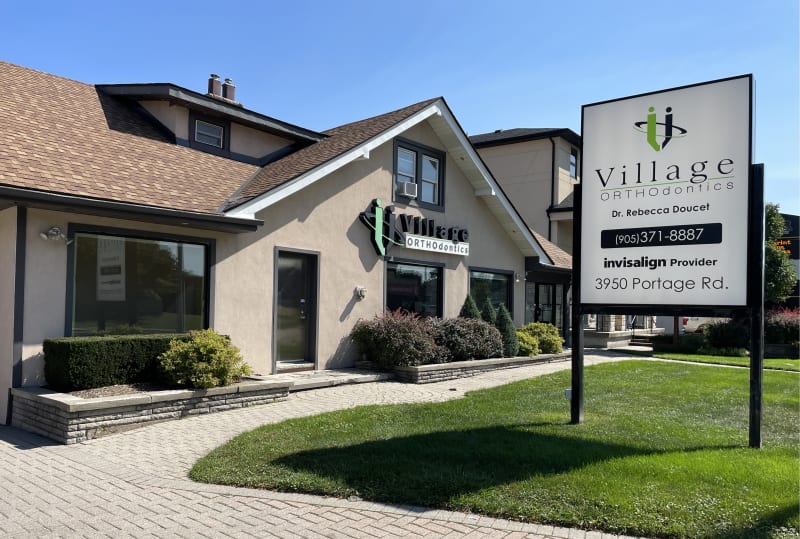 Office Hours
Monday: 8:00 am - 5:00 pm
Tuesday: 8:00 am - 5:00 pm
Wednesday: 8:00 am - 5:00 pm
Thursday: 8:00 am - 5:00 pm
Friday: Closed
Saturday: Closed
Sunday: Closed
Meet Our Orthodontists
Visit a Village Orthodontics Near You
Whether you're considering treatment for yourself or your child, we have an orthodontist waiting for you at one of our seven locations across Ontario.
Back to top